Urban Planning Proposal (not implemented)
PudhuCovai: Circular Design Vision for Koundampalayam, TN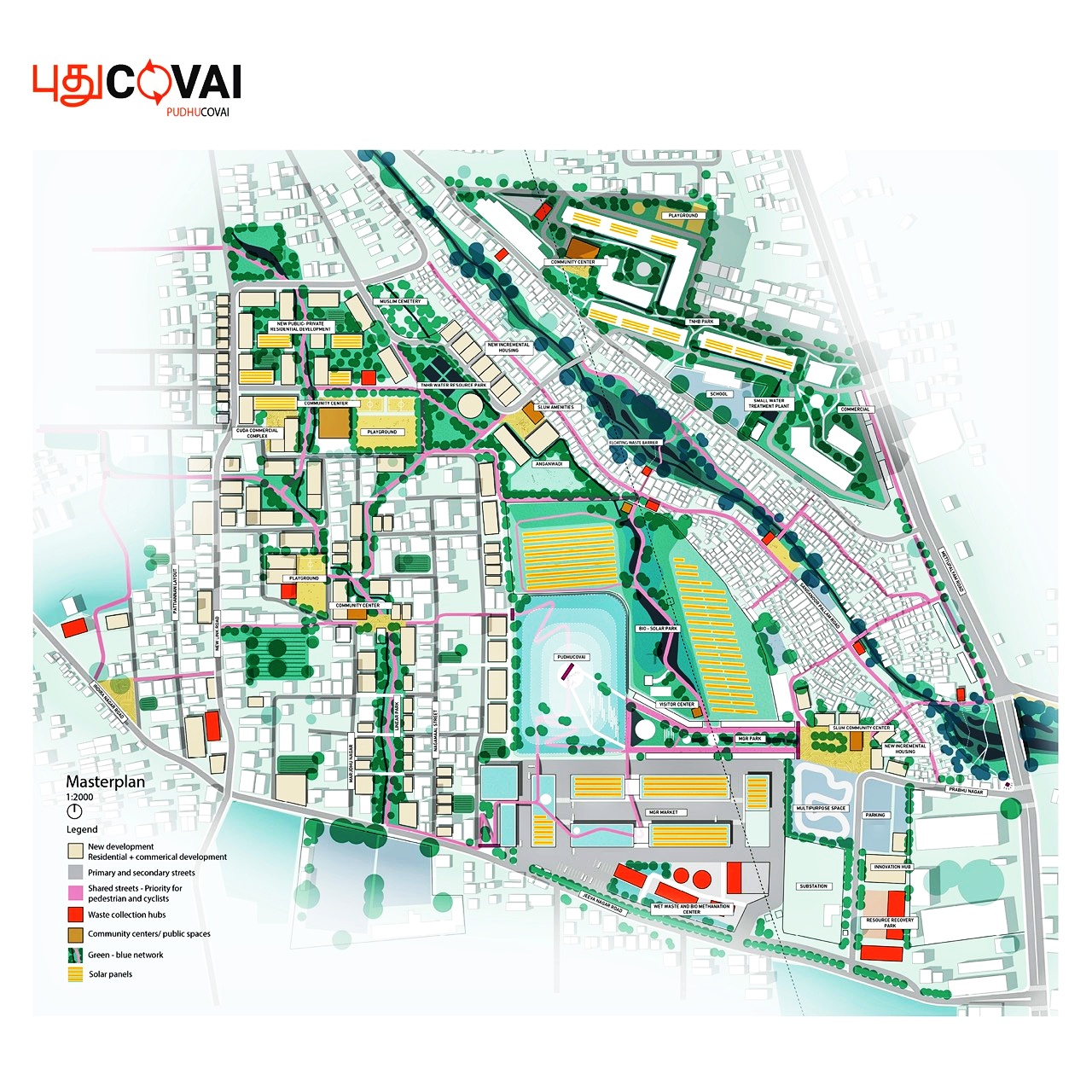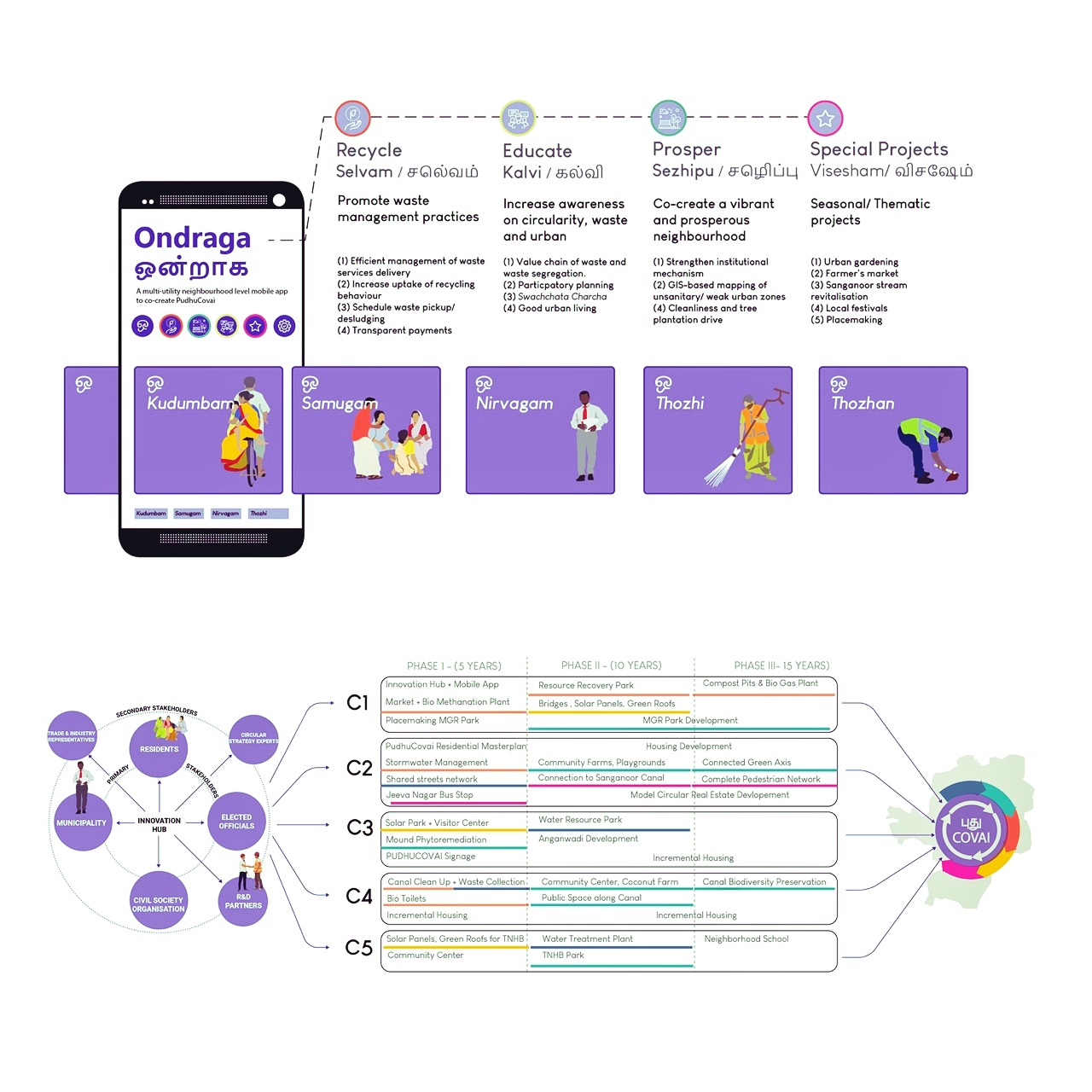 Status: Top 5 shortlisted entries (did not win)
Organizer: Coimbatore City Municipal Corporation (CCMC) and GIZ India.

Coimbatore is among the fastest-growing tier-II Indian cities and a central hub for industries, education, and healthcare in Tamil Nadu. This current growth will require an ever-increasing share of natural resources to achieve Coimbatore's Smart City Vision (2017) of providing the highest quality of living for its progressive and diverse residents. This growth is unsustainable because most of its systems remain "linear" with evident patterns of extraction.



புதுCOVAI /

PudhuCovai (A "New" Covai), aims to facilitate Coimbatore's transition towards circularity by suggesting systemic changes in Koundampalayam neighbourhood. The vision for the city is established with four main thematic priorities- Resilient and Healthy District, Zero Waste District, Flourishing Economy, Inclusive District. PudhuCovai establishes context-specific circular solutions using strategies that are scalable and replicable across the city of Coimbatore, hoping to add it to the list of leading sustainable cities of the future.

Moving towards a "circular city", where systems are regenerative and waste-free by design, presents vast potential for economic benefits made possible by reusing raw materials currently lost in the linear "take, make, dispose" approach. By creating closed loops, we extend the life cycle of resource flows- water, energy, waste, needed to sustain a community. Our project aims to facilitate Coimbatore's transition towards circularity. This effort will require a systemic change at the local level, seeking to reinvent Koundampalayam as PUDHUCOVAI (Pudhu meaning New). Our 2050 vision for the city is established with four main thematic priorities-

புதுCOVAI as a Resilient and Healthy District, with improved air quality, water quality, and increased biodiversity.
புதுCOVAI as a Zero Waste District, by reimagining its waste systems using the MGR market as a model.
புதுCOVAI with a Flourishing Economy, with increased economic productivity, more local businesses, skills training, and employment opportunities.
புதுCOVAI as an Inclusive District for all, by enabling social cohesion through enhanced interactions in public spaces.

We identified five distinct types of developments within Koundampalayam to showcase the adaptation of circular processes. The presence of these diverse built-environment typologies makes Koundampalayam the perfect testbed for the following circular interventions- C1: Introducing an Innovation Hub and a Resource Recovery Park; C2: Establishing a PudhuCovai Neighborhood Model; C3: Creating a Green Heart; C4: Revitalizing the Sanganur Canal & Informal Settlements; C5: Integrating Circularity in Existing High-rise Developments. We adopt a participatory method to co-produce site-specific solutions in collaboration with all residents through a proposed PudhuCovai Welfare Association. We also propose working with elected officials, municipality, trade and industry representatives, small business owners, and circular strategy experts. We offer a neighbourhood improvement mobile app- 'Oṉdṟāga' that works in tandem with the e-governance web portal proposed as a part of Coimbatore's Smart City plan. புதுCOVAI's four main priority areas work together to make it a leading, climate-responsive, integrated, and liveable neighbourhood.


Official Entry